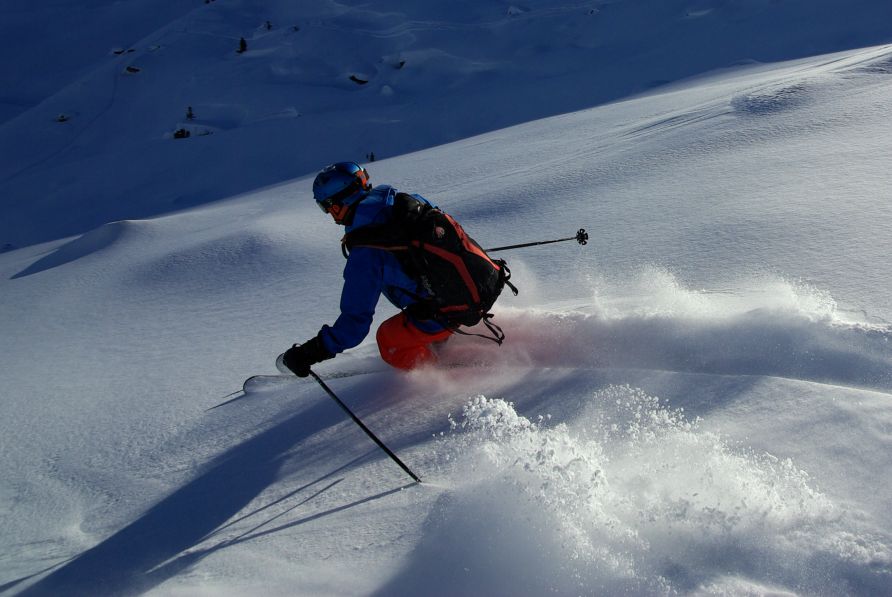 Are those first few days on the slopes usually rather uncomfortable ones with aching thighs and muscles over the following mornings? Is getting fit for the ski season something that you aim to do every year but you just run out of time?
If you haven't done so already, it's now that you should start preparing your body to ensure pain-free carving turns and snow shoe hikes.
To help prepare properly, there are a few things to consider:
1. Work on your muscle power and strength
Your quadriceps muscles at the front of your thigh and your gluteal muscles at the back of your thigh/buttocks are the main muscles used to provide power whilst skiing and snowboarding. They maintain your body position and help to protect your knees from injury. Calf muscle strength is also important.
To work these muscles, do some simple squats: crouch down, keeping your back straight, with your knees forming a right angle, then stand up again. Do 20 repetitions and then rest. Repeat four times.
Lunges are also good snowsport preparedness exercises. Stand with your feet together. Step forward with one leg and bend, forming a right angle with the front leg and bending the back knee so that it almost touches the ground. Go back up to standing and switch legs. Again, do 20 repetitions and then rest. Repeat four times.
Don't forget to work on your core strength as well. This includes the muscles of your stomach, your back and your sides. Training this area is especially important for beginners as these muscles are used to help you get back up again after you fall over! Sit-ups and press-ups can work these muscle groups.
2. Remember the cardio
A regular work-out for your heart and lungs is important. Cardio-training using a step-machine, or cycling means that you can work out some of the muscles used in skiing and boarding at the same time. Combine a 20 minute cardio work-out three times a week with muscle strength exercises on two or three days for maximum effect.
3. Improve your flexibility
This can help protect against muscle soreness and stiffness. Stretch out your muscle groups each time you exercise. Calf, hamstring and quadriceps stretches are particularly important for skiing. Make sure that you have warmed up properly before you start stretching.
4. Train your balance and coordination This is very important in terms of injury prevention. A simple exercise is to stand on one leg with your eyes closed. Do this for two minutes twice a day. Until you improve, stand close to something that you can grab hold of, if needed. When things are becoming easier, add in knee bends, or perhaps do this whilst you are brushing your teeth morning and night.
Remember, if you are not used to regular physical activity, always start gradually and build up slowly. Stop exercising and see a doctor, physiotherapist, osteopath or other sports medicine specialist if you have any pain, discomfort or feel unwell whilst exercising.
And don't forget the other considerations before you head out to the slopes:
Make sure that you wear the right clothing to protect against low temperatures and hypothermia, especially in early season.
Exposed skin should be protected against the sun's UV rays – use SPF 30 sun cream or higher. Apply 20 minutes before hitting the slopes and reapply during the day.
Protect your eyes with high quality sun glasses or goggles.
Get your skis serviced and your bindings checked at the beginning of the season. Correct binding settings for your weight and skiing ability can help reduce knee injuries.
Remember your helmet!
Lastly, know how to respond if an accident does occur on the slopes. Crossed skis positioned in the snow uphill from the accident scene help to secure the area and protect against further danger.
The local ski patrol emergency number should be on the resort piste map, or at the base station. Put this in your mobile phone just in case.
If skiing in a more remote area, the number to call for the helicopter mountain rescue service in Switzerland is 1414 and in neighbouring France is 112.
First Aid training at the beginning of the season can prepare you to help others.
Adapted from an article by Dr Michelle Wright published in Le News in 2013