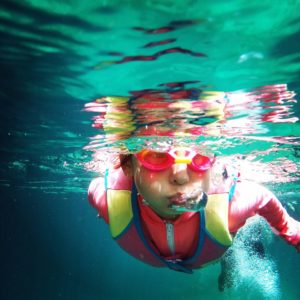 With the warm weather that we've been having lately, there's nothing better than to cool off in one of the many lakes and rivers that Switzerland has to offer.
Most of the time, this dip or swim in the water is completely enjoyable and uneventful but sadly, according to the Swiss Council for Accident Prevention, around 50 people run into difficulty and drown each year in this country.
Young men are particularly at risk, most being between the ages of 15 and 44. A propensity to risk taking, over-estimation of their abilities and lack of experience in water are all cited as possible reasons why this age group features so highly in the statistics. The consumption of alcohol and drugs with their knock on effects on reaction times are also risk factors.
Even if a person can swim, not being familiar with the specifics of Swiss rivers and lakes may explain why foreigners make up large numbers. And young children are also vulnerable. They must be taught to swim at an early age and should never be left to play near water or swim unaccompanied, with the youngest remaining no more than an arm's length (2 metres) away from you.
If you are faced with a drowning situation, knowing what to do could save a life:
1. First protect from DANGER – don't put yourself at risk.
2. Get the person out of the water – reach for them or throw something to them; don't enter the water yourself unless you are trained to do so.
3. Once they are safely by the water's edge, check for a RESPONSE.
4. If they ARE RESPONDING: Remove wet clothing, dry the person and keep them warm; CALL 144/112 for an ambulance – they must be checked over by a doctor, even if they appear well.
5. If they ARE NOT RESPONDING: Shout for HELP, if not already on the scene; open their AIRWAY and check for normal BREATHING.
6. If they ARE BREATHING: Put the person into the RECOVERY POSITION; call 144/112 for an ambulance; dry them and keep them as warm as possible.
7. If they ARE NOT BREATHING: Make sure an ambulance has been called; give 30 CHEST COMPRESSIONS; then give 2 RESCUE BREATHS; continue with cycles of 30 COMPRESSIONS and 2 BREATHS until the ambulance arrives; use an AED (automated external defibrillator) if one is available.
Come on one of our First Aid courses to practice the techniques described on realistic manikins.
Stay safe in the water and enjoy this summer.
Dr Michelle Wright
3rd July 2018
Disclaimer: Click here to read our full disclaimer.